Donor Cows/Embryos For Sale-Cattle, horses, and cowdogs
Production Sale and Donor Cows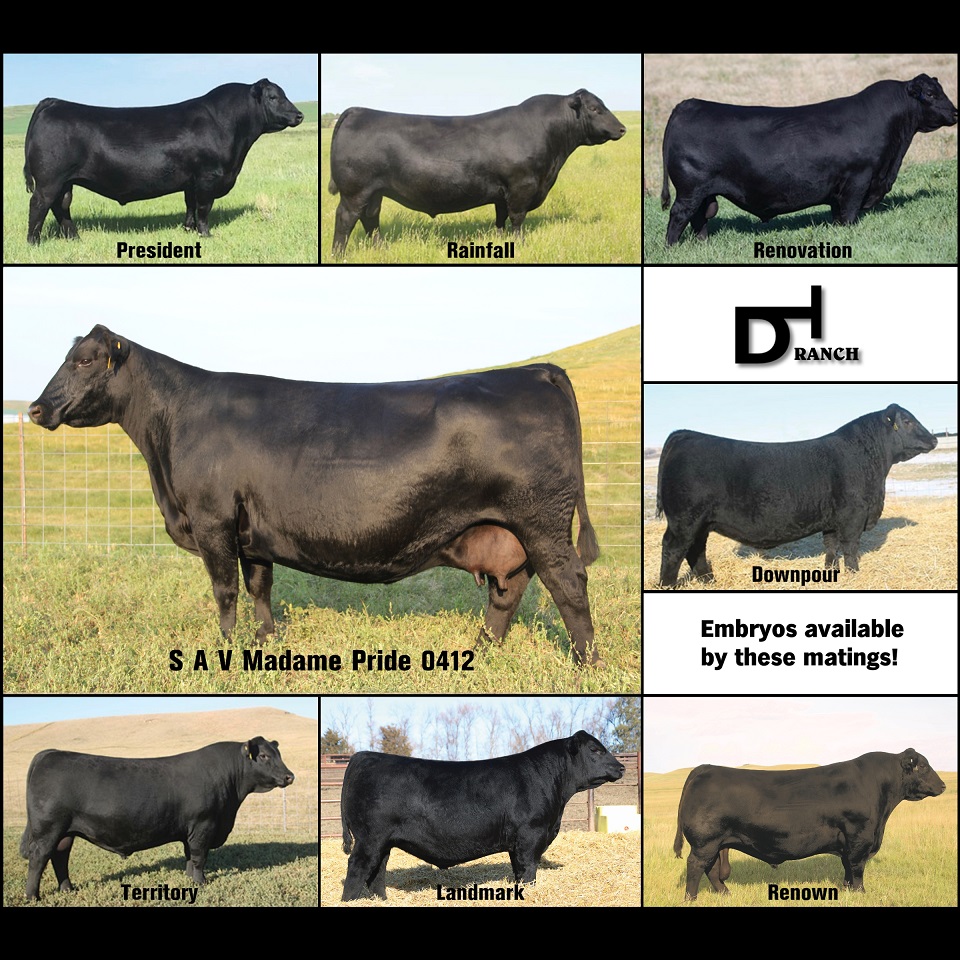 SAV Madame Pride 0412 is a Pioneer daughter out of the legendary S A V Madame Pride 0075, who served in the SAV program for 18 years and produced $5.3 million on progeny averaging nearly $35,000. Her famous sons include Registry, Response, Hopper Bottom, Supercharger, and the $1.51 million dollar world-record selling AMERICA.

0412 produced S A V Infusion 4247, who was the $40,000 feature in the 2015 SAV sale and scanned a 365-day ribeye of 19.5 inches. Her daughter, S A V Madame Pride 3304, is the #1 ribeye cow in the SAV herd and serves as a 7th generation embryo donor. 0412 is a remarkable female- super feminine, long-fronted, wedge-shaped, and angular. What dreams are made of!!!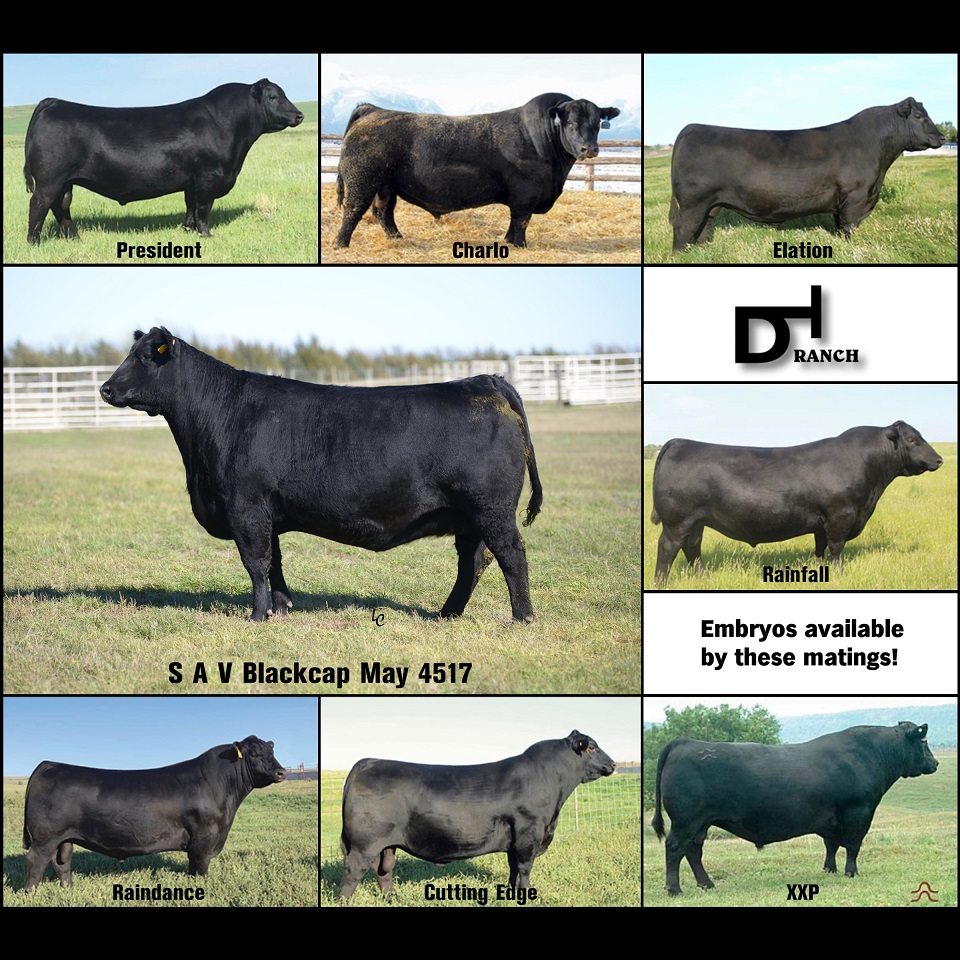 SAV Blackcap May 4517 is a full sister to Resource, Renown, Recharge, Watson, McCombie, and Grant. She is an own daughter of S A V Blackcap May 4136, the #1 income-producing cow in Angus breed history. As of January 1, 2019, 4136 had generated 9.5 million in progeny sales, averaging over $49,000 on 191 direct sons and daughters in past SAV sales.

4517 was the only 2-yr-old to be flushed out of her entire calf crop and went on to have the #1 weaning heifer in the 2019 SAV sale. 4517 is an elite female with world-class udder quality, massive volume, power, and unsurpassed femininity rolled up into one package. This is one of the most powerful cows in the breed. Females like these are extremely rare and very hard to come by.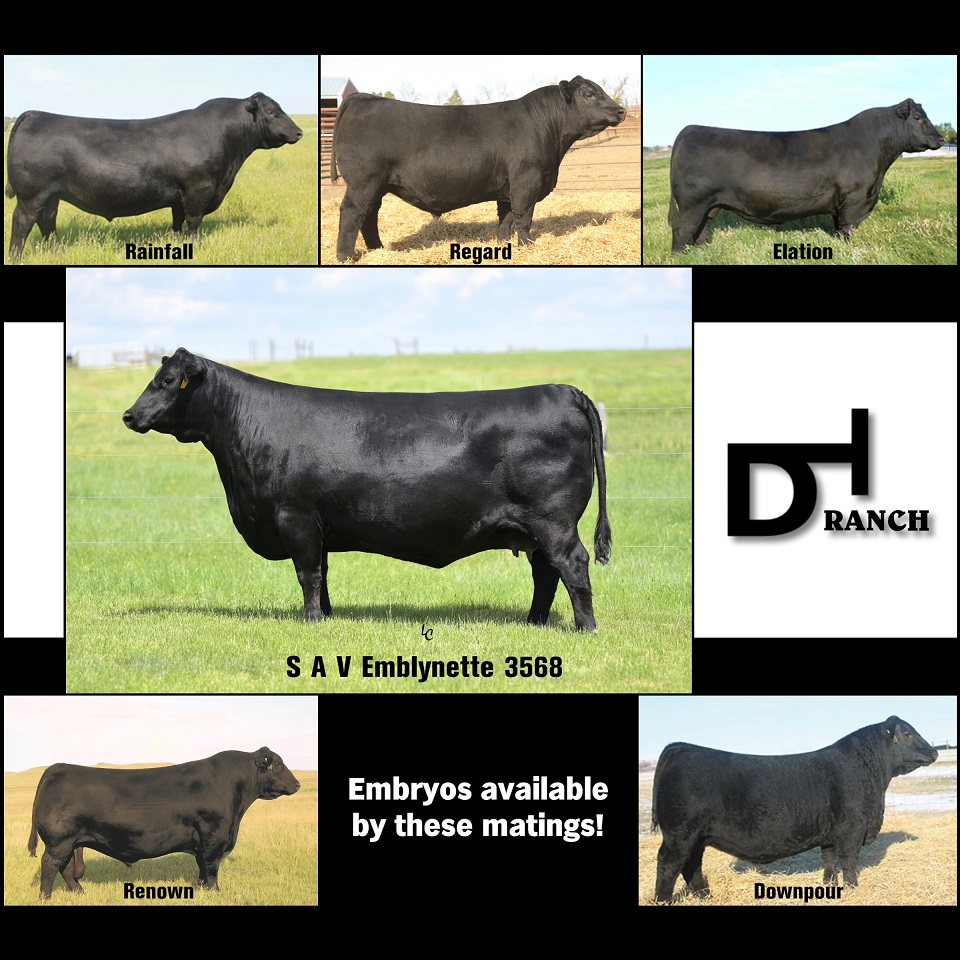 SAV Emblynette 3568 is an own daughter of S A V Emblynette 3301, the model cow of the Angus breed. 3301 has generated over $2 million in direct progeny sales. Her herd sire sons include Momentum, Hesston, First Prize, Impact, Intent, and Drover.

3568 is a phenotypical standout- very feminine with a picture-perfect udder. Deep-sided and long-bodied, this beautiful brood cow has all the right angles. Blending maternal excellence, performance, and pedigree makes for a rare combination. 3568 is energy-efficient and has the best disposition you could ask for. She is truly a female to build a herd around.
 
SAV Emblynette 8411is a Net Worth daughter out of S A V Emblynette 7261, who was in production for an amazing 21 years. Highly productive in her own right, 8411 has produced some outstanding individuals including the $60,000 Lot 1 bull in the 2016 SAV sale. She is a low-birth/high-milking cow that has an IMF ratio of 115 on 9 progeny scanned. 8411 has been a profit machine with extreme fertility averaging 20 freezable embryos per flush.

This year's top seller, S A V Bloodline 9578, as well as last year's high sellers, S A V Emblem 8074, S A V Ajax 8885, and S A V Dewdrop 8119, all hail from this same cow family. Their maternal granddam, S A V Emblynette 7566, is a full sister to 8411. This is currently one of the most powerful maternal lines in the breed.

8411 has a foundation pedigree with unmatched longevity, coming from four generations of Emblynette Pathfinders. Like her mother, she is built to last.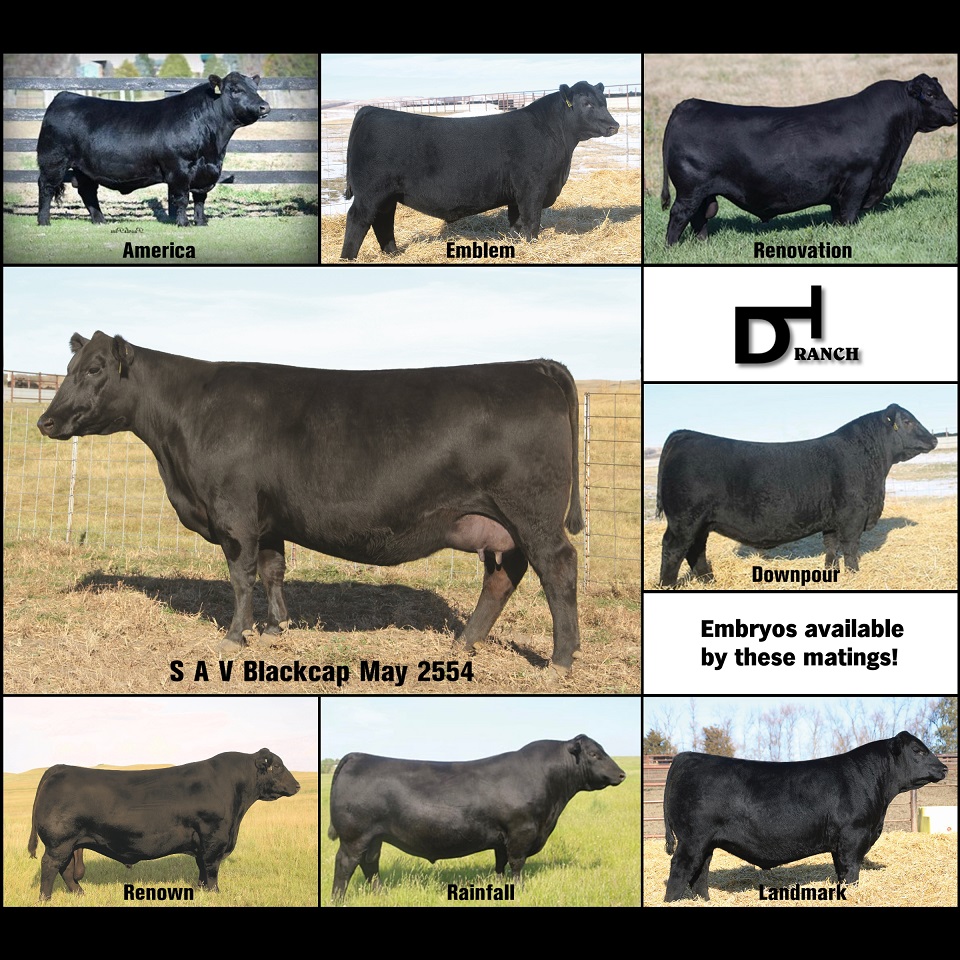 SAV Blackcap May 2554 is a proven SAV donor from the world-famous Blackcap May cow family. 2554 is an own daughter of S A V 707 Rito 9969 and S A V Blackcap May 5530. 5530 is the mother of the highly successful sires Regard, Priority, Brand Name, and the Herbster Angus superstar, Cutting Edge.

2554 has a track record second to none with a weaning ratio of 5@108. She is the #5 ribeye female in the entire SAV herd. A high-weaning and yearling cow with abundant milk and outstanding production ability, 2554 is a no-miss female out of one of the greatest cows to walk the earth.